Discipline: Consultancy Services
Client: Confidential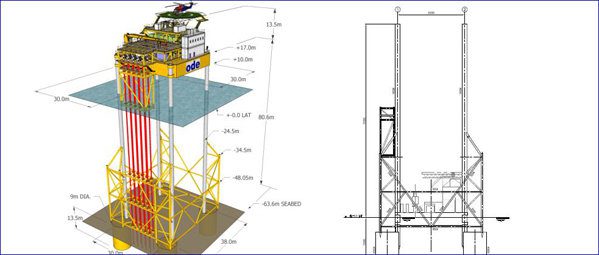 Location: Middle East

A confidential oil and gas company has developed an Oil Field in the Middle East. The development concept consisted of a normally unmanned installation standing in about 64m of water approximately 35km from shore with a crude oil production of 7,000 BPD. Water injection of 8,000 BPD and artificial lift by electric submersible pumps were required to support this production rate. Two wells will be drilled in advance and tied back to the platform.

The client considered that the FEED design of the offshore platform was not reasonably optimised and was designed with a large size of structural members/components, potentially resulting in over design (heavier weight). Subsequently, it was decided a review of the FEED design documents and a preliminary study for a new concept were needed.

Scope of Work

ODE reviewed the weight of the jacket, pile and topsides, to determine any potential for reducing the weight, while giving due consideration to the lifting limitations of using a local marine constructor's crane barge (lifting capacity limited to 450 – 500 ton).

In parallel, ODE investigated alternative concepts using its field development generator/selector tool called FOC&S (Field Opportunity Creation & Selection). FOC&S incorporates interactive workshops to allow a bottom-up approach to identifying multiple option scenarios. This is complemented by an in-house method of efficiently screening out options, while being cognisant of the client's key drivers, thus reducing the duration and cost of the screening exercise.

The alternative concepts also considered a revised configuration over the previous FEED design. This required extra equipment offshore, including power generation, seawater treatment and injection, access via helideck etc.

ODE concluded that the original jacket concept would be beyond the local marine constructor's lifting capability and a revised concept was recommended, incorporating the use of a self-installing mobile offshore application barge (MOAB).

The MOAB option was taken forward into a further phase of work undertaking supplementary basic engineering in advance of project sanction.