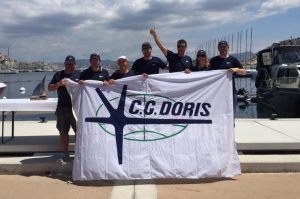 Employees from Offshore Design Engineering and other DORIS Group companies sailed to fourth place in the 2019 Coupe du Pétrole boat race in Marseille, France.
The DORIS Group team were one of seventeen crews participating in the four-day race; meaning The Oil Cup, the Coupe du Pétrole is open to employees from across the Oil and Gas industry, this year featuring teams from companies such as Perenco and Technip.
Beatrix Sibley and Jean-Charles Di Schino from ODE sailed with team-mates from DORIS Engineering, STAT Marine and Oceanide to win fourth place. The full team consisted of:
Beatrix Sibley (Foredeck) – ODE
Benjamin ROUSSE (Helm) – Oceanide
Benoît Noguerra (Pit) – STAT Marine
Evgeny Andreev (Tactician) – DORIS Engineering
Fabien Giraud (Trim) – STAT Marine
Jean-Charles Di Schino (Trim) – ODE
Olivier Langeard (Mainsail) – DORIS Engineering
With mixed levels of expertise in competitive sailing, the team worked together under the experienced leadership of Beatrix Sibley and Benjamin Rousse to complete the course. Despite having never sailed together before, the team employed the mantra to Race for Best and acted with determination and good spirit to achieve their outstanding result together.