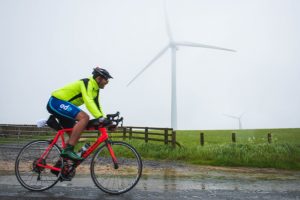 ODE's 6-man team, Fuel to Win, participated in the Earth, Wind and Tyre 2019 cycle challenge organised by the charity Renewable World; through donations, the cause hopes to provide clean and sustainable energy to people across the globe.
Over a 216-mile course from Durham to Edinburgh, and passing 11 windfarms on their journey, Fuel to Win handled heavy rain, strong winds, and an ascent of over 14,000 ft to reach the finish line. They were joined by teams and individuals from across the renewable energy industry to complete the two-day race.
ODE's team consisted of Andrew Baker, James Eddolls, Amir Elzoubier, Chris Lomax, Matthew Smith and Don Wickramasinghe. Andrew Baker was the fastest of the ODE team, achieving joint fourth place overall, whilst Amir Elzoubier took part in the challenge for the second year in a row.
Since starting work in 2008, Renewable World has helped nearly 40,000 people across Central America, East Africa and South Asia by providing access to electricity, clean water and clean cooking facilities.
After completing the race, donations for Fuel to Win stood at £3,487 with the fundraising page still open to donations: https://renewable-world.charitycheckout.co.uk/pf/TEAMODE
Photo © Shahid Chohan (www.shahidchohanphotography.com)