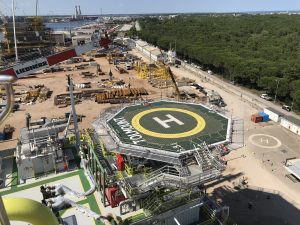 Putting 50 years of experience into changing energy
ODE is a successful and established asset management and operations support provider with a presence in both Aberdeen and Great Yarmouth. An integral part of the DORIS Group, ODE has been providing its engineering experience for more than 50 years, and for the last 15 years has been providing direct asset management experience, initially focused on the Southern North Sea.
We have adapted and grown with the industry in those 50 years, challenging the status quo to build a proven track record of delivering a high standard of industry-leading technical services and have become an integral part of our clients' teams across various assets.
For more than 25 years, our Great Yarmouth offices and quayside facilities have been successfully supporting the changing energy needs of Southern North Sea businesses, with complementing technical services provided from our corporate head office in London.
We pride ourselves on having a strong safety leadership culture, a deep understanding of the cost and complexity challenges seen in this region, and we are proactively providing a solutions focused, value-adding approach for our clients.
Decades of experience
We have decades of experience behind us, and are a trusted service partner across a variety of assets including NEO's Babbage platform, IOG's Blythe and Southwark platforms, HGSL's Tolmount platform and Alpha Petroleum's Tors and Wenlock platforms.
The provision of these services, which also covers associated pipelines, includes:
Installation (Duty Holder) and Pipeline Operator, including developing the Safety Cases
Operations, maintenance and integrity management of on- and offshore facilities and subsea pipelines
Experienced, competent and multi-skilled offshore personnel
Provision of Computerised Maintenance Management System (CMMS)
Provision of Asset Integrity Management System (AIMS)
Provision of Integrated Safe Systems of Work systems and processes
Operational Due Diligence
Transition and Pre-Operations Management
Training and competency management
Operations and project engineering support and execution throughout an asset's life cycle including design, construction, commissioning and decommissioning activities controlled within a management of change framework
Procurement services
Supply chain and logistics management
Emergency Response management
Engineering support services including the provision of Technical Authorities
The Safety, Health, Environmental, and Quality (SHEQ) of all of ODE's activities is assured through a proven and continuously developing SHEQ management system that is accredited to ISO 9001, ISO 14001 and ISO 18001. ODE's commitment to safety is further demonstrated by the company holding  prestigious RoSPA Gold and Commended medals. The council provides industry awards in recognition of a company's safety management systems and the company's actual safety performance.
Integrated Service Partner Capabilities
In delivering our asset management services, we are very proud of the quality and cost-effective outcomes that we provide to our clients, as demonstrated by the following actual Key Performance Indicators:
Industry leading Health & Safety performance
Average production availability levels in excess of 98% across all ODE managed assets, over the last five years
Work routinely delivered under budget. Since 2011, we have been under budget by an average of 4.39% despite challenges from clients
Very high levels of client satisfaction as demonstrated by our clients FPAL scores
A flexible approach by utilising personnel through a pooled as-and-when-required basis, enabling operational activities to be scaled as required
Through all existing asset management contracts, ODE constantly delivers an efficient, flexible and responsive service. We effectively manage major accident hazards risks to protect the people who work for and with us, those who are affected by our activities, and the environment in which we work, while our target is to continually improve the quality and value of our services and products.

Through strong relationships developed between ODE, our clients, our sub-contractors and the associated stakeholders, we have been able to establish an effective, integrated approach to the operations and maintenance that we perform.

At all times, we never forget that ensuring technical and occupational safety must always remain our number one priority.

We have a track record of delivering what we say we will, as well as a true client-focused offering.