Active Cup 2017
14th February, 2017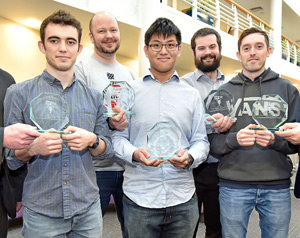 This year ODE was represented in the ACTIVE Cup challenge by a fantastic team comprised of different backgrounds and experience from London and Great Yarmouth; Stephen Baines (Process – Study Manager), James Barker (Process), Adam Brown (Mechanical – Operation Support), Ben Cranie (Mechanical – Wikinger Secondment) and David Huynh (Civil – Structural). The team decided to call themselves "ODE to Joy", in keeping with the tradition of having a team name with "ODE" included.

The day before the simulation consisted of trying to absorb a full day of lectures on various project management tools such as EV analysis, network diagram, critical path analysis, followed by working as a team to implement these recently learned skills and build upon an existing project plan. The team worked on the preparation for the simulation late into the night before agreeing to get some sleep at a forgotten hour and continuing again at 6am the following morning.

On the day of the simulation, the team were nervous and anxious as we handed in our "Action Form" promptly at 8:30am, signifying the start of this stressful weekend. In the ACTIVE games spirit, we loaned a key team member to an opposing team who had been struggling to plan their cash flow. Despite being a man down "ODE to Joy's" successful planning and organisation meant each team member knew their exact role and could overcome this hurdle among other surprises and remain on track in terms of the forecasted end date.

"ODE to Joy" had ended the first simulation day on a high, which meant the team could relax and fully utilise the "Network Learning Centre" before finishing the simulation the following day, having met their forecasted end date with a profit of £28,000. Unfortunately, "ODE to Joy" were just beaten to the top prize but were rewarded with a well-deserved second place, receiving the Gold award trophy.

Overall, the team agreed that this was a valuable experience giving new insight into how to manage projects as well as further enhancing their teamwork skills.