International Women in Engineering Day – Leanne Lake
30th June, 2020
To conclude our week celebrating ODE Group's female staff for International Women in Engineering Day, we spoke with Leanne Lake, Office Administrator, on why she works in the engineering industry. Leanne is pictured below (bottom left).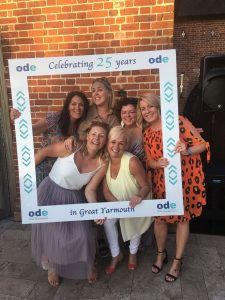 What drew you to the engineering industry?

I fell into the engineering industry by chance; I began in ODE as a temp on reception and became permanent. Over time, I was awarded more and more responsibility across a range of departments and have now been with ODE for almost 16 years.

The diversity of my role is one of the reasons I have stayed in the engineering industry with ODE. I've worked in Office Management, overseeing maintenance and moves between offices, whilst also assisting the HR department and receiving HR training. I've additionally supported the Marketing department, helping to set up conferences and the ODE brand at international offshore wind conferences. Administration is often perceived as a background role, but it is integral to the running of the company offices, the ODE brand, and the projects ODE carries out.

I've also stayed with ODE as it is such a personable and supportive company; they are flexible for those with families and are keen to give you different experiences of roles. As the company is relatively small in size, you don't feel anonymous and you directly support everyone you work with in one way or another.

How has the engineering industry developed during your career and how would you like the industry to evolve in the future?

Technology has developed considerably since being in this position. Our office is transitioning into being paperless and advanced technology has made the move into working from home simple. Whilst the way we work has changed, I think progress needs to be made within the engineers themselves. I would like to see the inclusion of more young engineers in the industry, particularly young women. There is still an observable imbalance between the number of male and female engineers in disciplines.

What was a stand-out moment of your career?

Stand-out moments of my career have been overseeing the administration for major oil and gas and renewables projects. This has included the Robin Rigg and Scroby Sands offshore wind farms. Providing support on these projects until their successful completion, both in and out of the UK, was a considerable challenge.