ODE AM seeks strategic partners as Duty Holder
6th February, 2019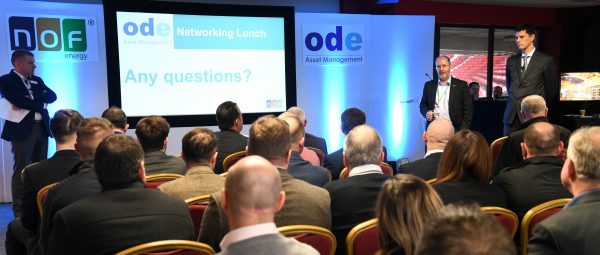 ODE AM (ODE Asset Management Limited), a subsidiary of ODE Group Limited, hosted a supplier's event to introduce the company, and future partnership opportunities, to over 70 visiting companies.
The event, which occurred in conjunction with NOF Energy at the Middlesbrough Stadium on 24th January, featured presentations by ODE's Sales and Marketing Manager Garron Lees, and Neil Westwood, ODE AM's Operations Manager for the IOG Assets.
ODE AM's future operations in the North Sea feature the IOG Blythe and Vulcan Developments, and the HGS Tolmount Development.
ODE AM was appointed as a key contractor by IOG and will be providing technical and operational support throughout the execute phase to the Blythe Hub and Vulcan Satellites Hub developments. Once this role is completed, ODE AM will then act as Duty Holder for all IOG assets.
ODE AM will also act as Duty Holder for the HGS Tolmount Development, managing the Humber Gathering System which will export gas from the Tolmount gas field to the Easington onshore terminal.
These new projects introduce opportunities for partnerships with other companies in the oil and gas sector. For both operations in the North Sea, ODE AM is supplying crew capability and onshore support but is also seeking to source other services.
ODE AM are looking for three main areas of service provision:
Logistics: Helicopters, Supply Vessels, Walk to Work Vessels, Onshore Transportation.
Specialist Vendor Support: Cranes, Metering, Control Systems, Fabrication.
Fabric Maintenance: Scaffolding, Painting, Inspection Services.
These contracts will create opportunities for long-term strategic partnerships with ODE AM keen to work with companies who strive towards innovation, flexibility, and intelligent solutions.