ODE presents Deep Water Foundation "AWC" at International Offshore Partnering Forum 2017
18th April, 2017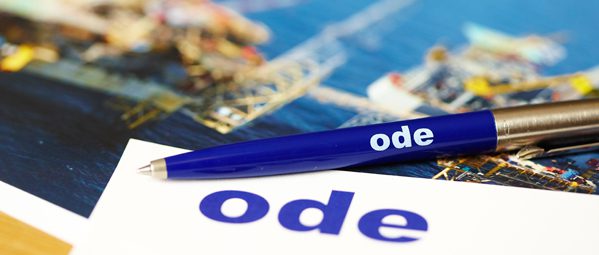 International engineering and operations support services contractor ODE, an integral part of the DORIS Group, will be presenting the Articulated Wind Column at the International Offshore Partnering Forum in Annapolis, Maryland, United States on 19th April.


ODE on behalf of other Partners, MEES & DORIS Engineering, will be presenting the Articulated Wind Column (AWC) as a cost-effective solution for mid to deep water environments.

The Articulated Wind Column is a crossover technology with 40 years of use in the oil and gas industry re-engineered for offshore wind in mid to deep water environments of 230ft to 660ft (70m to 200m).

Constructed of concrete, or alternatively all in steel, with an articulated joint at the foundation's base it provides a robust, stable and a cost effective alternative to floating platforms opening up development opportunities in deeper locations closer to shore, at lower cost.

The Articulated Wind Column is designed to operate with the largest of turbines to harvest the strongest wind conditions. Field demonstration sites in around 90 metres (300ft) water depth are now being planned. Turbines are expected to be in the range of 6-8MW and a total capacity of up to 100MW is envisioned.

Dan Woodman, Business Development Manager North America said "Our paper describes the main technical features related to the Articulated Wind Column. The capability to accommodate the largest turbines of any configuration, together with the introduction of modern methods of mass production of the substructure. We demonstrate how this fixed foundation enables the economic development of future deep water wind projects at a level which will be competitive with other forms of electricity generation."

Dan continues "The AWC solution is an extension to proven technology with more than a dozen deployments as offshore loading columns in the harsh North Sea environment. The structural design and use of concrete as the primary material results in a design which is less prone to price volatility and is highly amenable to mass production and versatile construction methods that enable the use of infrastructure and capabilities which are local to the offshore wind farm location."

The International Offshore Wind Partnering Forum runs from Wednesday 19th April through to Friday 21st April in Annapolis, with ODE presenting on Thursday 20th April, between 11:00 – 12:15 at the Panel Session 2 'Offshore Wind Technology Challenges'.