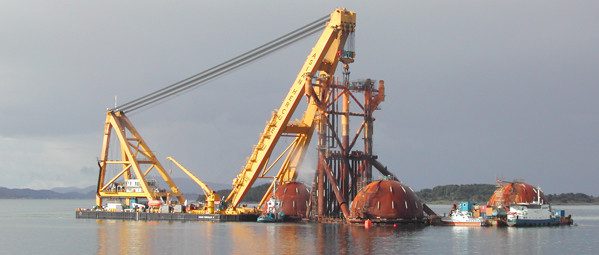 ODE has extensive practical expertise in the decommissioning of oil and gas production and processing facilities, and structures. ODE has built up a detailed decommissioning cost database, incorporating the most up-to-date market data. Our experience covers all aspects of decommissioning activities, ranging from 'due diligence' reviews of provisions made for end-of-field-life costs; through to detailed preparations before removal; complete de-manning and remote operation of platforms; and preparation for re-use or deconstruction and recycling of the waste streams.
Throughout recent years, ODE has performed a number of independent expert reviews of shared decommissioning liabilities between incumbent and heritage Operators. Our proven techniques and understanding of the decommissioning process has allowed our clients to realise a significant reduction in the apportionment of decommissioning liabilities.
Also, ODE continued its support of Fairfield Energy in their consultation with the UK Health and Safety Executive in relation to the derogation of the Dunlin Alpha facilities. A study into the refloat options for the Dunlin Alpha Concrete Gravity Base was published in the public domain by Fairfield Energy as part of the consultation process.
ODE's client list for decommissioning studies is extensive and covers international and independent Operators such as Shell, BP, ExxonMobil, Total, ConocoPhillips, Talisman, Perenco, E.ON Ruhrgas, RWE, Premier Oil, Ørsted, Fairfield Energy and Summit Petroleum.
Our depth of experience has been applied to onshore and offshore facilities and particularly relates to the following areas:
Independent evaluation of decommissioning liabilities
Legislative requirements
Permit and consents
Facility shutdown before decommissioning
Decontamination and preparation for decommissioning
Redeployment and re-use of facilities and equipment
Offshore marine operations
Deconstruction methods
Recycling of materials
Handling and disposal of hazard waste
With the complex legal framework and the high profile of decommissioning operations in the oil and gas sector, ODE can add value to clients' projects through comprehensive planning and the meticulous preparation of necessary documentation, engineering and planning. The range of services available is extensive and comprises comprehensive technical and commercial expertise, including:
Feasibility, conceptual and front-end engineering studies
Project management
Planning and cost estimation
Formal identification of BPEO
Drafting of abandonment programmes
Writing decommissioning safety cases
Environmental accounting
Planning, engineering, and supervision of decommissioning marine operations
Workpack preparation
Construction / deconstruction supervision